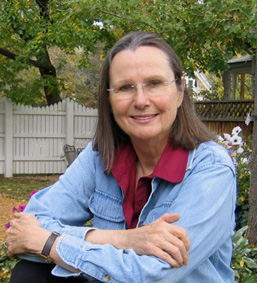 Biography
Sandra Bierman, grandmother of five, was born in Brooklyn, New York, but from age 4 grew up in Oklahoma, Texas and Maryland. Her father was a Swedish immigrant and her mother a Texas farm girl. She was nurtured as a child by her part-Cherokee grandmother. Art scholarships began at age 11. Sandra is married to retired physics professor Arthur Bierman, and they have lived in Boulder, Colorado since 1988. Her oils are widely collected and are published and distributed worldwide. Influences: 16th Century Italian masters, Mexican masters, Chinese and Japanese classical art.
---




Artist's Statement

"It is important in my work that I paint intuitively, with no models or photographs to influence the spontaneity of my inner perceptions as they emerge. Although I approach the canvas much like an abstract painter, working with divisions of space, shapes and lines, I enjoy the added challenge of using the human figure. I consciously work with technique and composition, but my unconscious adds an element of inner yearning for tranquility, strength and well being-- depending on my mood. The figures, often depict grounded women with bare earthy feet and large caring hands. The women may be cradling a child, getting solace from a cat or washing their hair in the rain …reflections from my own life. The large old women may be my grandmother or me. I am also the cat or baby. In a way, the whole painting is a self-portrait from the inside, out. Men are also coming into my compositions. For the sake of important elements in a work, I often exaggerate or distort shapes and lines to enhance the overall flow and composition. I apply the paint, but it is a struggle to not get in the way of the process as it unfolds. It works best if the vision guides me, not I guide it. I notice that my visits to Kauai are influencing my palette. I thank my son "jbum" for all his expertise in making this web site."
-- Sandra Bierman
---
Selected Awards and Recognition
Chosen for inclusion in Marques
WHO'S WHO IN AMERICA
beginning 2000.

PURCHASE AWARD "Seduction of Eve II",
City of Loveland, Loveland Art Museum,
Colorado Governor's Invitational, 1998

MEDAL OF HONOR (1st prize oil)
"The Old, The Ugly & Beautiful"
American Artists Professional League,
67th Grand National, Salmagundi Club.
New York City 1995.

INTERNATIONAL FINALIST, "Yin-Yang"
and "Woman with Red Hair"
Louie Awards, Javits Center,
New York City, 1995 & 1996.

NATIONAL FINALIST, "Fascination"
Artist Magazine Awards, 1994.

BEST OF SHOW & BEST OIL AWARDS
"Three Graces Trilogy"
Western Images, Boulder CO 1992.

4-YR. SCHOLARSHIP
Maryland Institute of Art
Baltimore MD.


Seduction of Eve




The Old, the Ugly, the Beautiful




Grace Trilogy: Faith


---




Bierman Show History

Selected One-Person Shows
2000 "Retrospective: Sandra Bierman" Bakersfield Museum of Art, CA
2000 "Works of Sandra Bierman" Blue Rain Gallery, Taos, NM
1998 "Recent Paintings" Lincoln Center, Fort Collins, CO
1998 "Coming Home" Jack Meier Gallery, Houston, TX
1996 "New Works" Contemporary Southwest Galleries, Santa Fe, NM
1995 "Spring-Summer Images" Columbine Gallery, Loveland, CO
1993 & 1994 "Inner Light" Montgomery House Gallery, Boulder, CO
1992 "Feelings of the Spirit," National Center for Atmospheric Research, Boulder, CO


Selected Group Shows
Loveland Museum, Colorado Governor's Invitational, Loveland, CO 1999-2000.
Maison du Terroir, Les Artistes Americaines, Genouilly, France 1996.
Salmagundi Club, National AAPL Show, New York, NY 1995.
National Arts Club, CLWAC 99th National, New York, NY 1995.
Queens College Gallery, CSL Inst. Tour, Cambridge, England 1994.
Merrill Gallery, Expressionist Show, Denver, CO 1996.
Contemporary Southwest Gallery, Santa Fe, NM 1996-99
La Galleria D'Arte, Newport Beach, CA 1995.
Moondance Gallery, Santa Fe, NM 1993.
---
Editorials & Reviews - Major Biographical Articles:
Southwest Art, April 1997, "Sandra Bierman" by Judy Hughes, p 106 - 111.
(read the article)

Radiance magazine, Winter 1997/98, "Painting It Large" by Alice Ansfield, p. 24 - 29.
(read the article)

Woman's Magazine, Dec. 1993, "Bierman: The Journey Back" by Deborah Rosenberger,. p.8 - 9

Mountain Living, Spring 1997, "Sandra Bierman", by Heather Prouty, p. 77-78.
(read the article)

ARTnews, Spring 1996
(read the article)

US Art Magazine, April 1999, Cover and "Women Painting Women" p. 30-32.
(read the article)

Art Review, Aug. 1998, "Sandra Bierman", by Paula Kiehl, p.30

Art Trends, Sept.-Oct. 1996, "Making Their Mark," by Nita Bateman, p. 43

Colorado Daily, " Feb. 21, 1992, "Feelings of the Spirit Shine Through in Bierman Show," by David Alan, p.22.

Sunday Denver Post, May 10, 1998, "Weight" by Kerri Smith, p.1-A & 3-D.
---



Editorials & Reviews (cont.) -

General Reference
America West airline magazine, April 95, by Skyword Marketing, "Gypsy Moon".

Art Calendar magazine, June 1996, Carolyn Blakeslee, "Town Meeting on Shows," p.20

Art Review, Aug. 1998, "Sandra Bierman", by Paula Kiehl, p.30

Art Talk, Aug. 1995, Danny Media, "Bierman, one of the hottest painters around..." p.13

Art Trends, Sept.-Oct. 1996, "Making Their Mark," by Nita Bateman, p. 43

Artist's Magazine, Dec. 1994, Marty Munson, "1994 Oil Finalists," p.49

Colorado Daily, " Feb. 21, 1992, "Feelings of the Spirit Shine Through in Bierman Show," by David Alan, p.22.

Mountain Living magazine, Spring 1997, "Woman's Work," by H. Prouty, p.77-79

Phoenix Home & Garden, May 1999. Cover editorial by Roberta Landman, p. 83.

Southwest Art, Nov. 1996: Kristin Bucher,. "Best of the West," (editorial for AAPL), p. 84-85

Southwest Art, Feb. 96: Margaret Brown,. "Bottom Line: "Sandra Bierman awarded the Medal of Honor" p.34

Sunday Camera, March 24, 1991 Jennifer Heath,. "Exhibit Promises Rebirth," (show critique)-C1

Sunday Camera, Feb. 23, 1992: Jennifer Heath,. Visual Arts: "Bravo!," (show critique) p. C1

SunStorm Fine Art, Summer 1997, "A New Dawn Rising" AAWA women artists, p. 49 & 55

U.S. Art Magazine, March 2002 "Top 50 Artists in 2001," p. 38

U.S. Art Magazine, Sept. 2001, "Off the Beaten Path," p.47 & 56.

U.S. Art Magazine, Feb. 1999, "Sandra Bierman," p. 3, 43 & 46

Womens Magazine, "The Journey Back," by D. Rosenberger. Dec. 1993, p. 8-9.

Writers Digest Books, 1994: Artist's & Graphic Designers Market Mary Cox, (Editor's choice),, p.444
---
Magazine Covers and Editorial Use
Christianity Today
Grace
Light of Consciousness
Psychology Today
New York Spirit
Nexus
The Other Side
---
Publishers of Leased Copyrights
Greeting Cards

Blue Sky Publishing, Boulder CO. 800-785-9493
Portal Publication, Novato, CA. 800-227-1720
Prints

New York Graphic Society, ArtBeats Collection. 800-338-3315
Portal Publication, Novato, CA. 800-227-1720
Sandra Bierman 303-447-8871
---